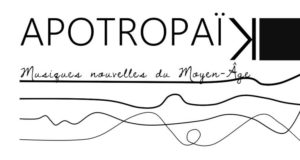 With a large possibility of instrumentation, ApotropaïK wishes to renew the approach of medieval music.
Its members performed together for the first time in November 2015 to share a concert with Korean traditionnal musicians at the Lyon CNSMD, organised within the frame of the « Année France-Corée 2015-2015 » initiated by the Institut Français. The ensemble began its activity with an intercultural dialogue. ApotropaïK had the chance to approach its practice and repertoire in the light of traditional Korean music. Members of ApotropaïK participated in a similar experience in September 2016: the ensemble was chosen to represent the Lyon CNSMD in the « Transcultural Confluence » project, which was the first stage of an international program gathering the Royal Academy of Music (Aarhus, Denmark) and the Conservatoire des Arts et Métiers Multimédia Balla Fasséké Kouyaté (Bamako, Mali). Participants had one week to imagine a performance with various aesthetics mixing pop, jazz, early music and non-European traditional music and but also gathering on stage musicians and dancers. The ensemble worked from songs of Machaut and pieces from the London manuscript. This project week ended with a concert opened to a large audience at the Lyon CNSMD. It was a unique experience in terms of sharing. It raised the universal character of these repertoires, medieval secular monody being very representative in that sense, offering an infinite range of possible interpretations. Since 2016, the ApotropaïK ensemble has been several times invited to play at the Cluny museum (National Museum of the Middle Ages) in Paris. It has also performed in prestigious festivals in France and Europe such as Mars en Baroque (Marseille) or the MAfestival (Bruges). In 2019 the ensemble will preform in the Gröpelinger Barock Festival (Bremen), the Festival de Sablé (Sablé-sur-Sarthe), the Heure Musicale du Jeudi (Nantes) and the Saison musicale des Chartreux (Lyon). Its repertoire spreads from the 13th to the 15th century. It is focused on instrumental music such as Italian and French estampies from the London manuscript or the Chansonnier du Roi or diminutions from the Faenza Codex, and on vocal music such as troubadour's songs, monodies from Machaut and Lescurel but also songs from Dufay for the Burgundian Court and Ars Subtilior melodies. In November 2017 the ApotropaïK ensemble won the 1st prize of the second Vanves Early music festival competition. In 2019, the ensemble won the competition "Jeunes Talents Sinfonia en Périgord". In July 2022, ApotropaïK scooped 3 prizes at the York Early Music International Young Artists Competition 2022. They won Cambridge Festival Prize ; the EEEmerging Prize ; and the Friends of York Early Music Festival Prize.
From 2023, the Royaumont Foundation supports the ApotropaïK ensemble as an ensemble in residence.